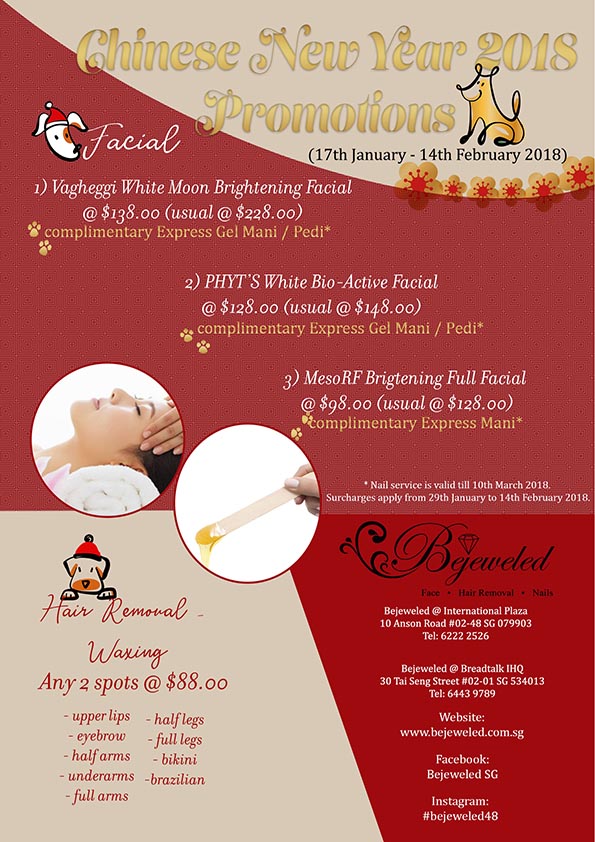 CHINESE NEW YEAR PROMOTION 2018
17th January 2018 – 14th February 2018
Facial
a) Vagheggi White Moon Brightening Facial Treatment @ $138.00 (usual @ $228.00) (Complimentary Express Gel Mani / Pedi)*
Find out more how this facial treatment does wonders to your face and the effects the treatment has on your skin.
b) PHYT'S White Bio-Active Facial Treatment @ $128.00 (usual @ $148.00)(Complimentary Express Gel Mani / Pedi)*
Get ready for Chinese New Year with an all-organic facial treatment to fade brown spots and brighten your skin.
c) MesoRF Brightening Full Facial Treatment @ $98.00 (usual @ $128.00)(Complimentary Express Mani)*
Indulge in one of our best-selling anti-aging treatments that does not only take care of your skin but your neck as well.
2.       Hair Removal – Waxing
Waxing on any 2 spots @ $88.00. Choose from:
upper lips
eyebrow
half arms
underams
full arms
half legs
full legs
bikini
brazilian
* Nail service is valid till 10th March 2018. Surcharges apply from 29th January 2018 to 14th February 2018.
---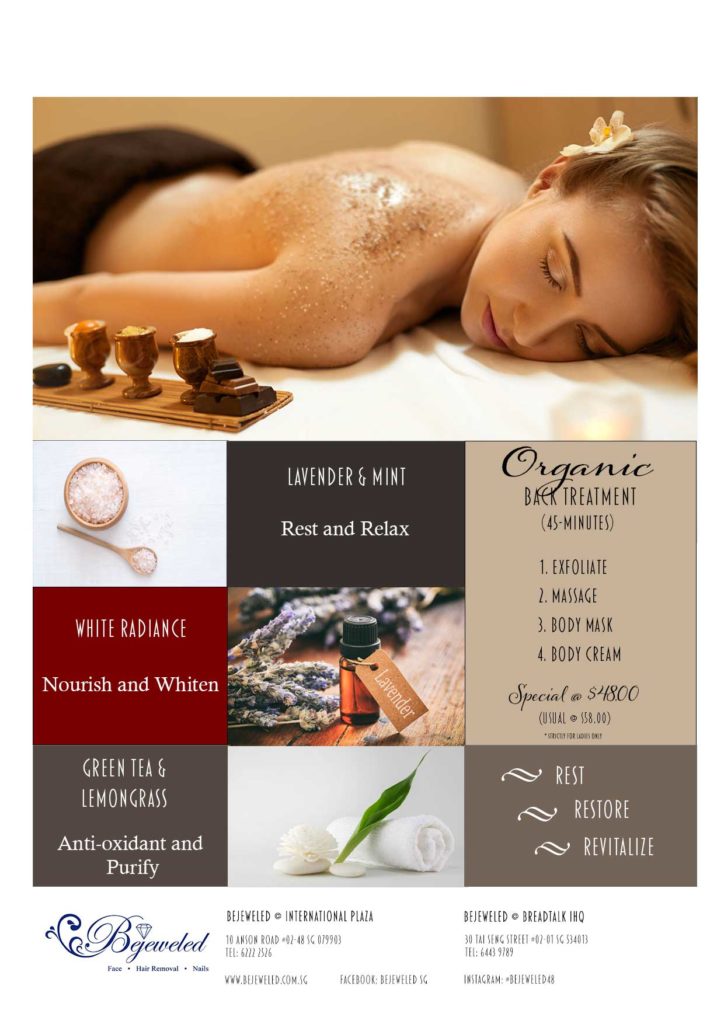 Organic Back Treatment
As much as we want to take care of our body, we often neglect especially our back. Time to pamper yourself a little with our new Organic Back Treatment. A treatment that exfoliates, with a mini massage, mask and wrap and finally, nourish with a rich body cream.
Comes in 3 different flavors, read more to find out which suits you the best!
Enjoy this treatment at $48.00 (usual @ $58.00) for a limited time period only.
Strictly for ladies only.
Available now at Bejeweled @ Breadtalk IHQ.