A revolutionary treatment that uses MesoRF Transdermal system, a 3-in-1 technology that improves nutrient absorption rate of up to 98%:
a) High Frequency Vibration to accelerate blood circulation and metabolism
b) Red Light Care – 630 nm red light with strong penetration, to penetrate into skin tissue, repair cells, and activate biological macromolecule activity
c) Radio Frequency – Deep skin heating stimulates collagen regeneration, restore skin elasticity, and to achieve long-term purpose of reducing skin wrinkles
Suitable for all skin types, this treatment defines V-shape contouring, refines pores and tightens skin. Specifically for fine lines on neck and eye area, MesoRF treatment deeply reduces such appearance. Depending on your concerns, there are 4 types of ampoules to choose from: Brightening, Hydrating, Purifying and Peptides (anti-aging).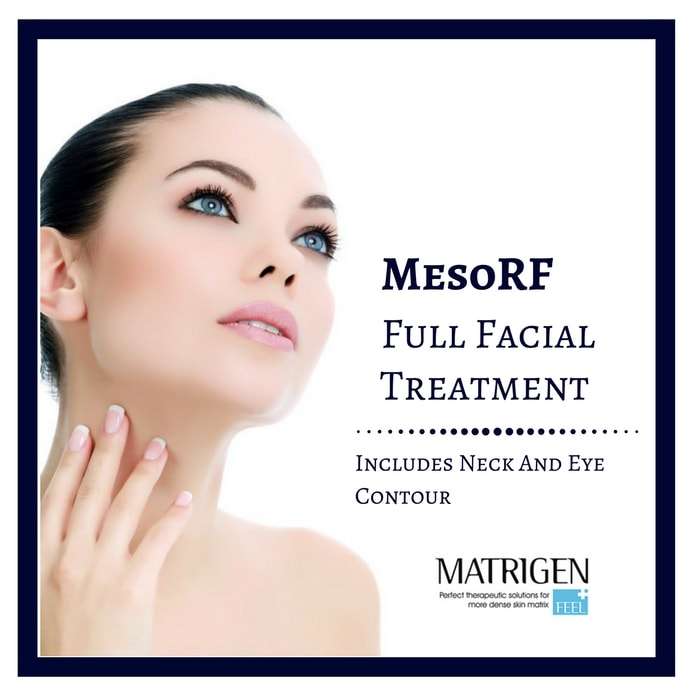 TRial price: $88.00
ala carte price:
Brightening, Moisturizing or Purifying ampoule: $128.00
Peptide ampoule: $188.00
A 90-minutes facial treatment which includes MesoRF Transdermal system with choice of Matrigen ampoules from Korea, a relaxing facial massage and concludes with a hydrating mask, this treatment will leave your skin looking youthful, radiant and hydrated. Neck area becomes brighter with fine lines very much reduced.
POWER LUNCH MESORF FACIAL TREATMENT
For the busy executives out there who do not have the time for a full facial treatment, Power Lunch MesoRF Facial Treatment is the ideal substitution. Using the same technology – 3-in-1 MesoRF Transdermal System, this treatment targets the face and eye contour area. Experience the same benefits of High Frequency Vibration, Red Light Care, and Radio Frequency in this 45-minutes session. It also comes with a relaxing facial massage and hydrating mask. At the end of the session, you will still see visible results – facial contour is defined, pores are refined and overall skin is tighter. A not-to-be missed lunch time facial.
ala carte price: $68.00