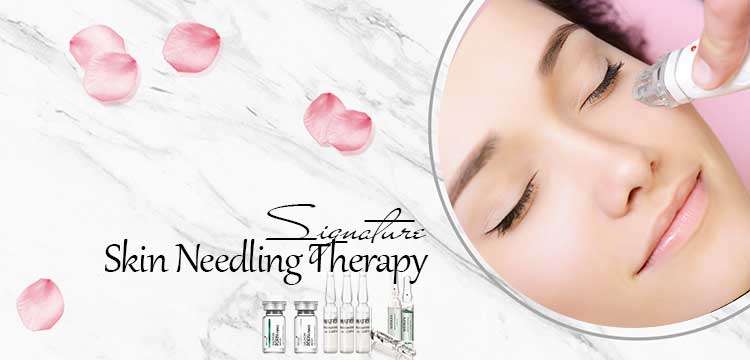 Microneedling Therapy (MTS) has helped many throughout their beauty journey. It is simple, yet effective. We are drawn to the simplicity of this treatment, and believed it will continue to satisfy countless down the road. To those that are unsure of Microneedling Therapy, we will take a look at how this treatment is carried out, and their benefits.
What is Microneedling Therapy?
Microneedling Therapy is a minimally invasive process that uses a tool with super tiny needles at the tip, to create microscopic holes on the top layer of the skin, or create "injuries" on the skin, so that it will naturally attempt to heal itself by producing more collagen and elastin.
Benefits of Microneedling Therapy
Boosts collagen – collagen is an essential protein to keep skin looking young, firm and smooth
Shrinks pore size – skin is more supple and contains a greater amount of collagen after microneedling and pore size will gradually reduce
Reduces acne scar – the acne scar area becomes plump again after microneedling due to production of new collagen (neocollagenesis)
Improves skin texture – an overall good skin rejuvenation process which leaves skin smooth, bright and vibrant
Reduces fine lines and wrinkles – as new collagen will fill in
Anti-aging – together with a good anti-aging serum as microneedling allows deeper infiltration of topical products
No downtime – exception for a few that may experience redness which is normal, and it will subside within the next day
Type of skin
Suitable for most skin types, except for the following
active acne
chronic skin disease such as eczema or psoriasis
cold sores or any other local infection
blood disease or disorder
on blood thinning medication
cancer patients
Frequency of treatment
Once every 3 to 4 weeks, varies with individuals
Choice of Skin Needling Therapy:
| | |
| --- | --- |
| With Matrigen Moisturizing or Brightening or Purifying Ampoule | $138.00 |
| With Matrigen Bi-Phase Control Anti-Aging EGF or Relax & Moisture EGF or Peptide Ampoule | $158.00 |
| With PDRN Revo-Serum All-in-One Premium Solution | $198.00 |
With purchase of any box of ampoules, Signature Skin Needling Therapy at $88.00
RECOMMENDED SKINCARE